NEWS

NOTICE!!
We would like to inform that recently, Mr. Tzapoff has been added to the Universal Dictionary of Artists at Commanducci Dizionario Universale, at their site; you would be able to find a link to Antoine's art and website.
Added 11-12-03

We would like to inform that recently, certain people have been claiming to be representing Antoine Tzapoff and his art. Per conversations with Mr. Tzapoff; there are only two Art Galleries that represent him at this time: The Art Gallery MATTHEW CHASE LTD. In Santa Fe, New Mexico.
Nobody else has the representation to sale or promote Mr. Tzapoff but MATTHEW CHASE LTD. and DEGYVES PRODUCTIONS
Let's protect the art and work of our friend and the excellent and professional job done by the Galleries that represent him.
Added 01-29-06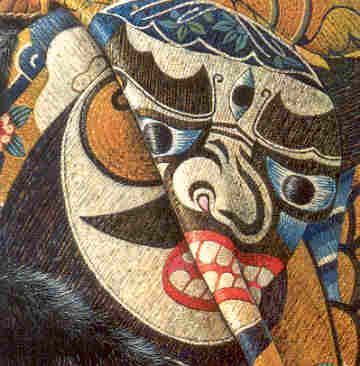 Dona Mongol - 1982
(Detail)
Acrylic on Canvas
Photographs shown on this page have been reproduced by expressed permission of Mr. Antoine Tzapoff
© Copyright 2001 - 2002 - 2003 - 2004 - 2005- 2006 "Antoine Tzapoff: The European Warrior", all rights reserved.
© Copyright 2001 - 2002 - 2003 - 2004 - 2005- 2006 De Gyves Productions logo is a trade mark and all rights are reserved.
WARNING
DeGyves Productions copy rights.
Federal copyright prohibits unauthorized reproduction by any means and imposes fines up to $25,000.00 USD for violation.
This material may not be duplicated for any profit-driven enterprise.
Without limiting the rights under copyright reserved above, no part of this publication may be reproduced, stored in or introduced into a retrieval system, or transmitted, in any form, or by any means (electronic, mechanical, photocopying, recording, or otherwise), without the prior written permission of both the copyright owner and the above publisher of this publication.
Any other usage violates U.S. copyright law Title 17 of the United States Code. im